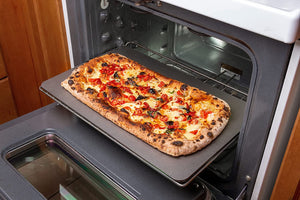 Welcome to DareBuilt Metal Works and DareBuilt Baking Oven Steel™
Baking Oven Steel™ ONLY available through Amazon.ca
Canada's premier baking oven steel and custom pizza tool manufacturer, right here in Ontario Canada! We manufacture 100% of our products in Canada using only the best Canadian raw materials we can find. We do not import and we do not re - sale any imported items.
Our foundation is based on the supprt of Canadian Jobs and manufacturing.
Our DareBuilt Baking Oven Steel™ is only available through Amazon.ca
Please note that prices may fluctuate with Market forces, The Amazon Price is the correct price.